At Eckermann Conveyancers, we often say that the South Australian property market is the one that is stable over time and doesn't experience the degree of highs and lows of our interstate counterparts. That is still holding to be true and while we're certainly not in the business of property price predictions, it seems that any stabilisation of values is being felt to a lesser extent in South Australia than the rest of the country. As a result, Adelaide and South Australia remain attractive property propositions for investors and first home buyers, with a lower entry price point than many other markets as well as the lower volatility that we've already mentioned.
Property Values in Adelaide
CoreLogic has recently released their January market data report. The overall picture for Australia from CoreLogic's Home Value Index shows dwelling values fell -7.2% for the year to January 2023 and while the drop in values is starting to ease, it remains in decline. South Australia, Western Australia and the Northern Territory are the three stars: all showing positive value increase for the year to January 2023 – both for regional areas and for capital cities. SA is way out in front with Regional areas showing growth of +15.3% and Adelaide +6.9% for the year to January 2023. Meanwhile, NSW, Qld, Victoria and Tasmania have all headed south over the same period. Even if we only consider the last 3 months, the reduction in the Home Value Index for Adelaide is just -1.5% compared with the national combined capitals figure of -3.2% for the same period.
Current position against record cycle high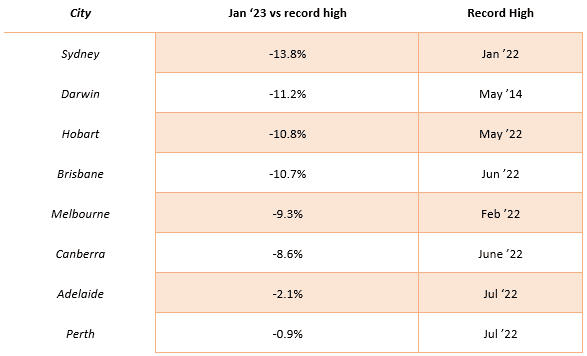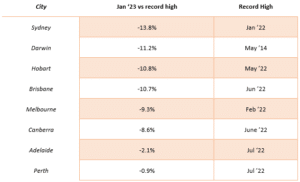 Volume of Property Sales
The number of properties sold nationally in January 2023 was down by almost -20% compared to January 2022. In Sydney, it's an even sharper drop of -30%. The average number of days that a Sydney property (that was sold in January 2023) spent on the market was 41 days compared to 26 days in January 2022. So, fewer properties are being sold and they are taking longer to sell.
The number of Adelaide and regional SA sales are down -1.8% and -4.8% respectively, which means both values and volumes in SA remain relatively positive considering the national view. In addition, the average number of days that an Adelaide property (that was sold in January 2023) was on the market was an average of 31 days – which is exactly the same as January 2022, so no change there. Interestingly, in Regional SA, days on market has actually decreased from 44 days in January 2022 to 41 days in 2023.
Property Listings
New listings in the Combined Capital Cities were down -22.2% compared with January 2022 but once again, that was reflected to a lesser degree in Adelaide with the drop being significant but much lower at -8.4%.
Rents
Pressure on renters continues with the annual change in rents to January 2023 increasing by just over +10%. Gross rent yields are calculated as the current estimate of annualised rental income against the value of properties. Nationally the average gross rent yield is 3.9% while for Adelaide it is 4% and for Regional SA it is 5.1%.
Is the dwelling value and sales volume drop for SA still to come?
Perhaps SA is a little like the receiver of aftershocks following an earthquake. Not being at the epicentre, the quantum of damage is less, the impact comes a little later and it is relatively gentle. If we're seeing the worst drops already, then perhaps the landing here in South Australia will once again be softer than for the more volatile of the Australian real estate markets.
At Eckermann Conveyancers we keep a close eye on the market and our major concerns for buyers and sellers of property in Adelaide at the moment are interest rates. With increases set to continue, there will be stress on those with mortgages. Homebuyers who are locked into fixed rates will come out of those terms eventually and they will experience significant repayment increases. No bank wants to foreclose on a homeowner and we would expect them to work hard to help their customers work through any mortgage stress. The positive for SA homeowners is that the ABS-reported-value of an average mortgage is $486,097* (Dec 2022) and that is far lower than a Sydney mortgage at $758,864*. Additionally, salaries in South Australia are comparable with those paid interstate, so the impact of rate increases, while no less concerning, should be more easily absorbed by Adelaide homeowners.
*Lending indicators, December 2022 | Australian Bureau of Statistics (abs.gov.au)