Eckermann commercial property lawyers have a wealth of experience and expertise in all aspects of property development and property law, and in all types of property and business transactions.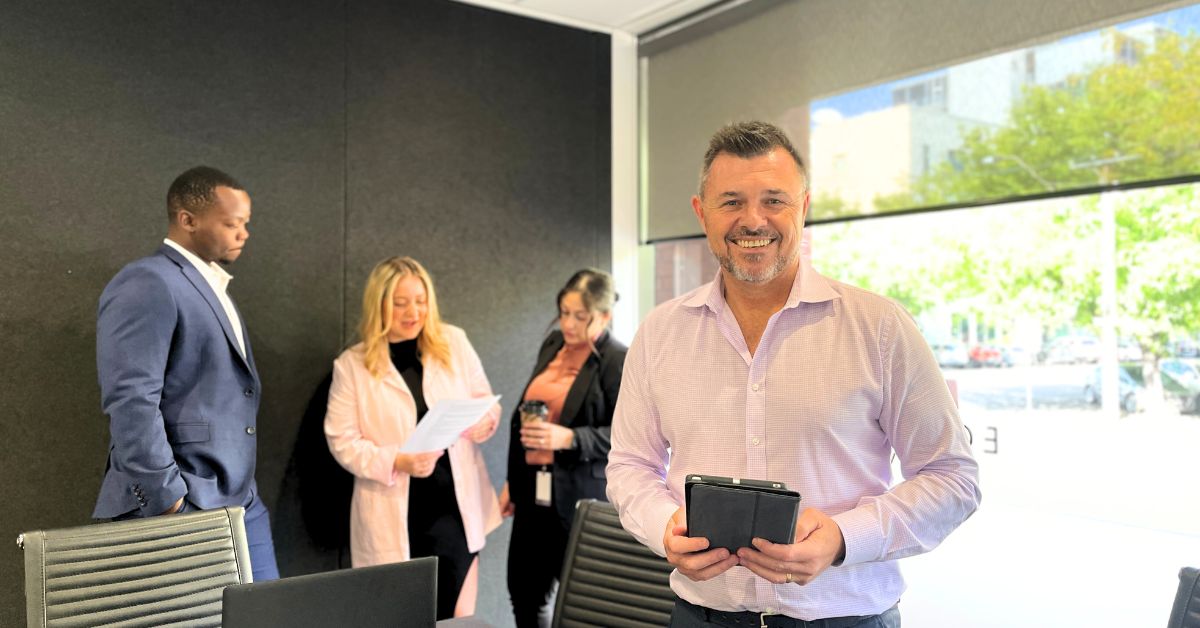 Our team prides itself on its depth of property law knowledge, which ensures you receive timely and informed practical advice. Whether you are considering acquiring a large rural estate, leasing retail premises in a shopping centre or selling off-the-plan apartments in a mixed-use development, you can trust our commercial property lawyers.
Who do our commercial property lawyers serve?
The commercial property lawyers at Eckermanns act for all types of clients including 'mum and dad' investors, larger commercial developers and land holding entities and also a number of public authorities.
Large or small, every client at Eckermanns is treated with the same high level of personalised service that only a boutique legal firm can provide.
Why choose Eckermanns commercial property lawyers?
By choosing a property law firm with access to South Australia's leading conveyancing firm, clients benefit from the added convenience of dealing with one group of local experts for all their property transaction and advice requirements.
Our expertise covers all aspects of property law, including:
Commercial and rural property sales and acquisitions
Commercial, industrial and retail leasing
Building and construction
Due diligence investigations
Planning and environmental issues
Land divisions, including both Community title and Torrens title
Compulsory acquisitions
Property taxes
General property advice
Adverse Possession is commonly referred to as "squatters rights." Every now and then, there will be publicity about cases where property owners have been negatively affected by Adverse Possession. Such cases are great fodder for tabloid front pages, however, for the property owner affected, it is not a matter to be taken lightly.
Adverse possession is a situation where a person is either occupying or in possession of land that is legally owned by another person. The occupant may acquire ownership and title to the land if a number of requirements are satisfied. It's complicated and if you would like further advice on those requirements, contact Eckermann Lawyers for further details and information.
Eckermann Lawyers work on many and varied matters relating to both residential and commercial building and construction.
We work closely with the developer community to help in all legal aspects necessary to make sure their projects happen.
Our involvement can comprise anything from contracts and risk management to assisting with financing, procurement and environmental and remediation aspects. We can also advise and assist on all matters including dispute resolution.
Contact Eckermann Lawyers for further details and information.
Retail & Commercial Leasing
In South Australia, retail shop leases are governed by the Retail and Commercial Leases Act 1995. The Eckermann Lawyers team can provide information and advice to clients related to the Act and its requirements.
Briefly, the key requirements under the Act are that:
Leases must be for a minimum of five (5) years, including any options to renew.
A landlord must provide a copy of a proposed lease to any prospective lessee (tenant), when negotiations begin.
The lessor must also provide a disclosure statement before a lease is entered into or renewed.
Within three months after the end of each accounting period during the term of the lease, the lessor must provide the lessee with a written report, prepared by a registered company auditor, containing a statement of all expenditure for outgoings for that accounting period where the lessee is required to contribute to those outgoings.
Lessees in a shopping centre have a preferential right of renewal when their lease expires.
When a lease is transferred, the continuing liability of a lessee who assigns a lease is limited to a maximum period of two (2) years.
Contact Eckermann Lawyers for further details and information about retail and commercial leases.
Community & Strata Land Divisions
Community & strata land divisions vary in popularity over time but remain attractive to many investors due to the greater returns that can be extracted from an initial investment. However, make some bad decisions and the land division process can be costly.
Eckermann Lawyers can provide advice to you on compulsory acquisition. Probably the first question you'll have for us is how value is determined if your property is to be compulsorily acquired. We've included some information for you below regarding the principles of compensation.. If you would like to discuss your own situation, contact Eckermann Lawyers.
Contract & Form 1 Preparation
At Eckermanns we can assist with your contract & Form 1 preparation. A Form 1 is a statutory disclosure statement that a vendor (seller of land) is required to give to the purchaser of property in South Australia.
The Form 1 contains information about the land including but not limited to:
Council rates
Cooling off rights
Encumbrances
Easements
Community or strata details applicable
And much more…
This information is collated from the State Government, local council and the vendor.
The Form 1 must be complete and accurate when given to the purchaser.
Eckermann Lawyers can assist in the preparation of both Form 1s and Contracts of Sale in South Australia.
Contact Eckermann Lawyers for further details and information.
Commercial Property Conveyancing
As with any property transaction, seeking the advice of commercial property conveyancing experts is a must for commercial transactions. There are a number of important steps to ensure the process is trouble-free and meets all legal requirements. While most South Australians have experience in the purchase and sale of residential properties, experience in commercial transactions tends to be less frequent and a much more complex process requiring extensive due diligence.
Commercial property transactions generally involve a lengthier process than residential transactions – as a purchaser you need to give consideration to permitted land use, existing commercial leases over the property, land tax, zoning and other related matters. Additionally you'll want to understand whether any encumbrances or environmental issues exist. This due diligence is crucial if the purchaser is to have full awareness of anything that might impact their ability to find a willing buyer in the future.
Contact Eckermann Lawyers for further details and information.
The Eckermanns team deals with encumbrances and easements on behalf of their clients almost every day. In the simplest of terms, an easement gives an individual or a company (grantee), the right to use land owned by another party for a particular purpose. That might be for drains, water pipes, driveway access or provision of other essential services.
An encumbrance is the instrument by which any right, interest or other claim against land is registered on the title and affects the owner's ability to sell the property.
Sounds complicated? Contact the commercial lawyers at Eckermanns for further details and information.
Eckermann Lawyers work on an expansive variety of matters relating to both residential and commercial developments. The diversity of clients that Eckermann Lawyers work with means we have a breadth of experience covering the whole property development chain.
Our experience with developers, government (federal, state and local), large and small investors as well as institutions means we have a solid understanding of the challenges for all of the actors in the property development process. That breadth of understanding means we are able to navigate the process seamlessly.
Contact Eckermann Lawyers for further details and information.
Contact our commercial property lawyers today
So if you wish to speak to an experienced commercial property lawyer who can deliver experienced, personalised and cost effective legal services, then contact us at: 08 8366 7900 or via the form below.